A long ride, with a few obstacles and many challenges, from 1934 to the present. And the feeling that it is never enough... No, "knowledge" is not enough anymore, but we have a magnificent obsession for quality every day and in every detail.
The Angelo Molteni furniture making company
1947, a photo of a football team, in front of an industrial shed. Fresh-faced young adults and boys only just out of school, almost all wearing overalls. They are the craftsmen and employees of the Angelo Molteni furniture making company, founded a few years earlier in 1934.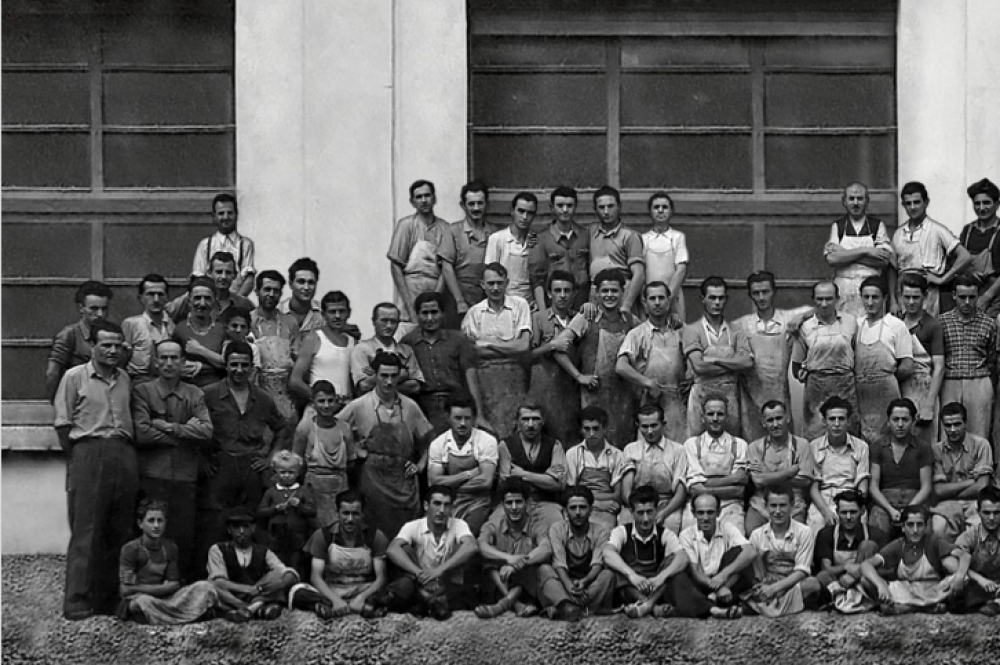 Fresh-faced young men and boys just out of school, almost all wearing overalls. These are the craftsmen and employees of Angelo Molteni's furniture-making firm, set up a few years earlier.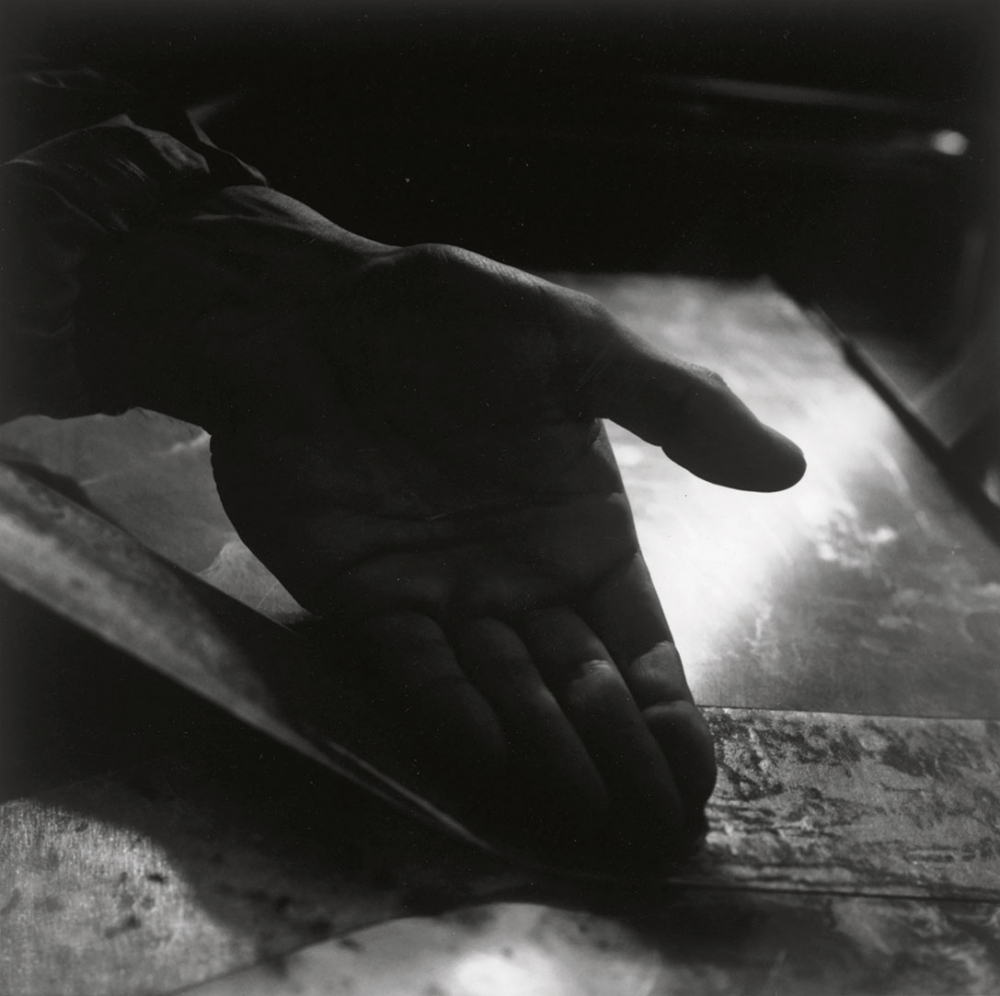 Through the artisan workshops, industriousness and ingeniousness could come together to provide a trade, learnt and handed down from father to son, something people could even be jealous of.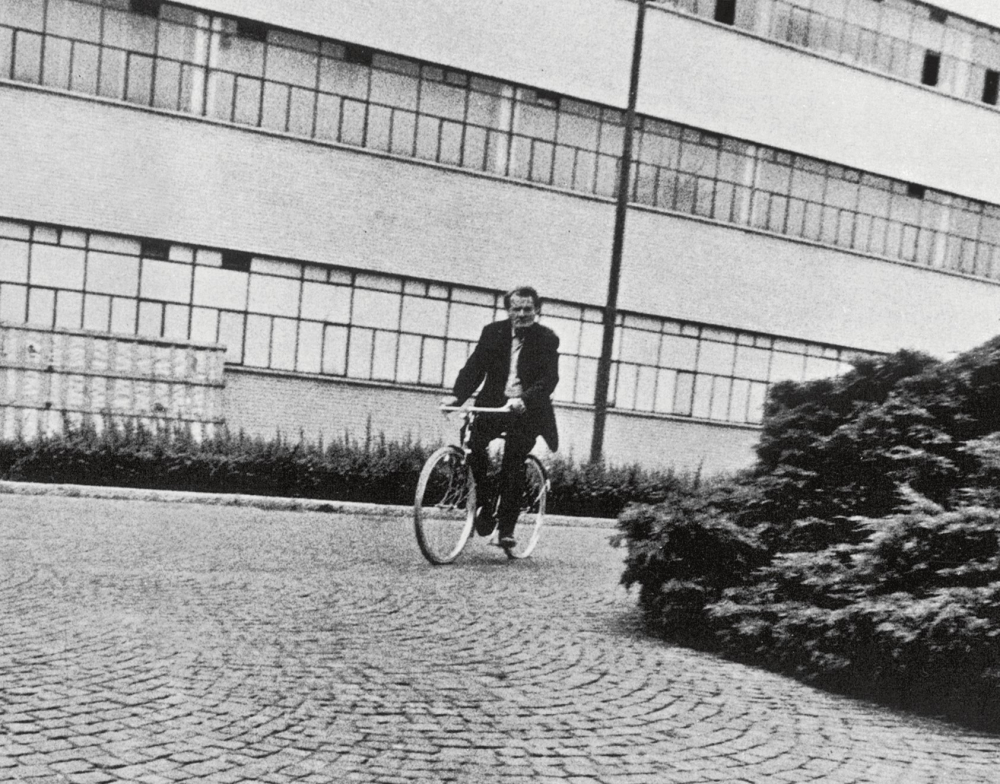 Angelo Molteni had just one obsession: quality. Manufacturing fast and efficiently and all in his own factory. This was the challenge. The wood had to be just right, the workmanship accurate, down to the smallest detail. But making good furniture also meant new models, corrected and adapted to the customers' demands.
By 1955 Angelo Molteni's firm already boasted a workforce of 200. The desire to move into the future worked miracles, the boom years were in the making. Confidence and good will fostered encounters, important encounters. The first was with Alberto Zevi. Mr. Zevi convinced his furniture-making friend to purchase the first industrial machines, a multiple press and a dry kiln, which ensured total control of the supply chain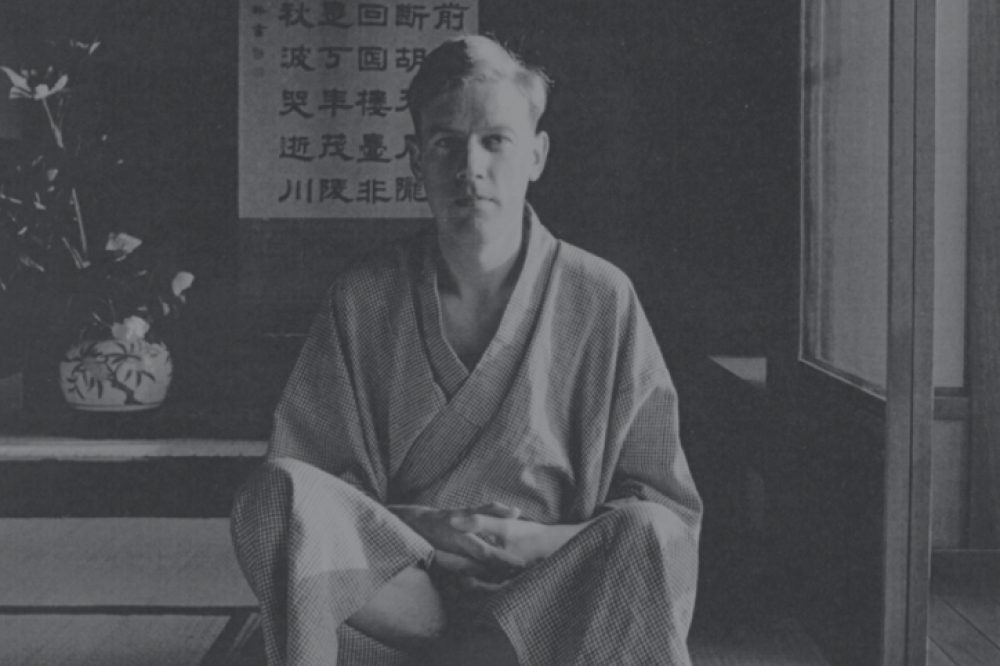 The second encounter took place in Cantù, in the person of a Swiss designer, Werner Blaser. His was the first prototype of a "modern" piece of furniture.
1955 saw the first "Mostra Selettiva – Concorso Internazionale del Mobile" in Cantù, to boost the district's manufacturing image.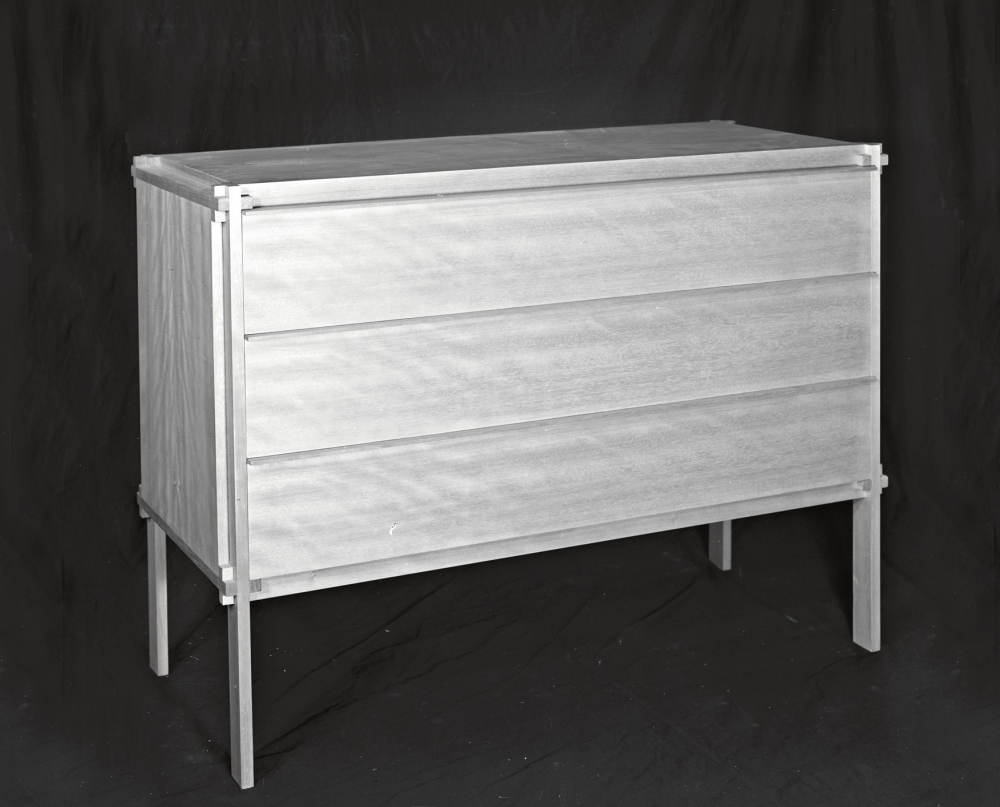 The director, professor Norberto Marchi, put Angelo Molteni in touch with Werner Blaser, a young designer from Basle. The design, built by Molteni, won the first prize. The jury was prestigious. Gio Ponti as Chair, with Alvar Aalto, Romano Barocchi, Carlo De Carli and Finn Juhl
In 1959, the company took part in Cantù's third Concorso Internazionale del Mobile with two bookcase designs: one by Yasuhiko Itoh, the Japanese designer who won the third prize ex aequo.
Goodbye classics, hello architects and modern design!
After the machine revolution, the style challenge. Manufacturers join forces to attract the world to Milan and Angelo Molteni is among the 14 founders of the first Salone del Mobile 1961. "Modern" furniture makes its debut Molteni experiments with Carlo De Carli but the breakthrough comes with the modular systems designed by Tito Agnoli, Angelo Mangiarotti and Luca Meda. In 1968, in six or seven months, production is turned around Goodbye classics, hello architects and modern design!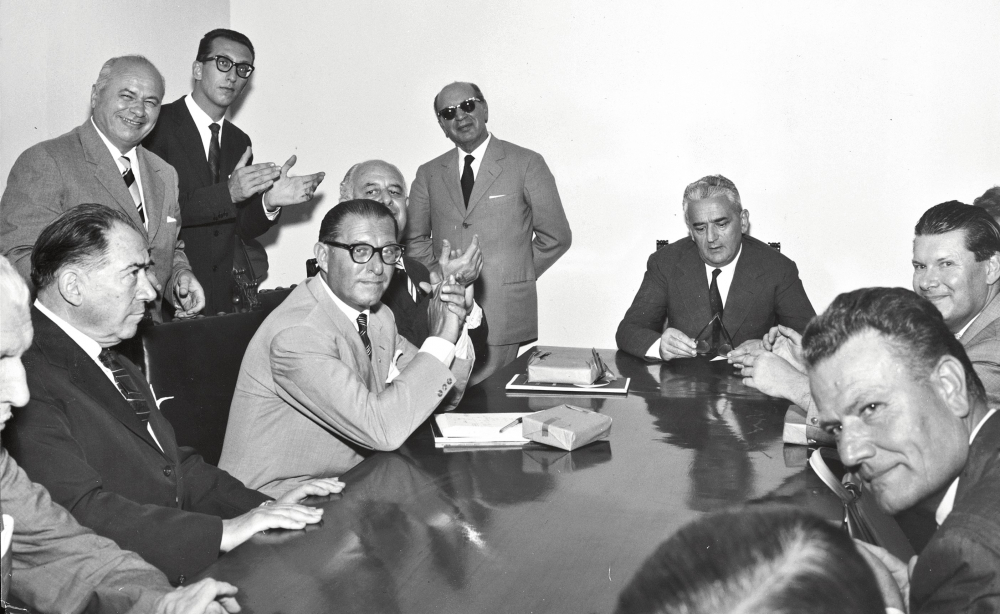 Tito Armellini, director of the Association of northern Italian wood and cork industrialists, and the entrepreneur Angelo De Baggis, convinced a further 12 Italian manufacturers to join forces to create Milan's first furniture fair, the Salone del Mobile. Angelo Molteni was one of them. It was 24 September 1961.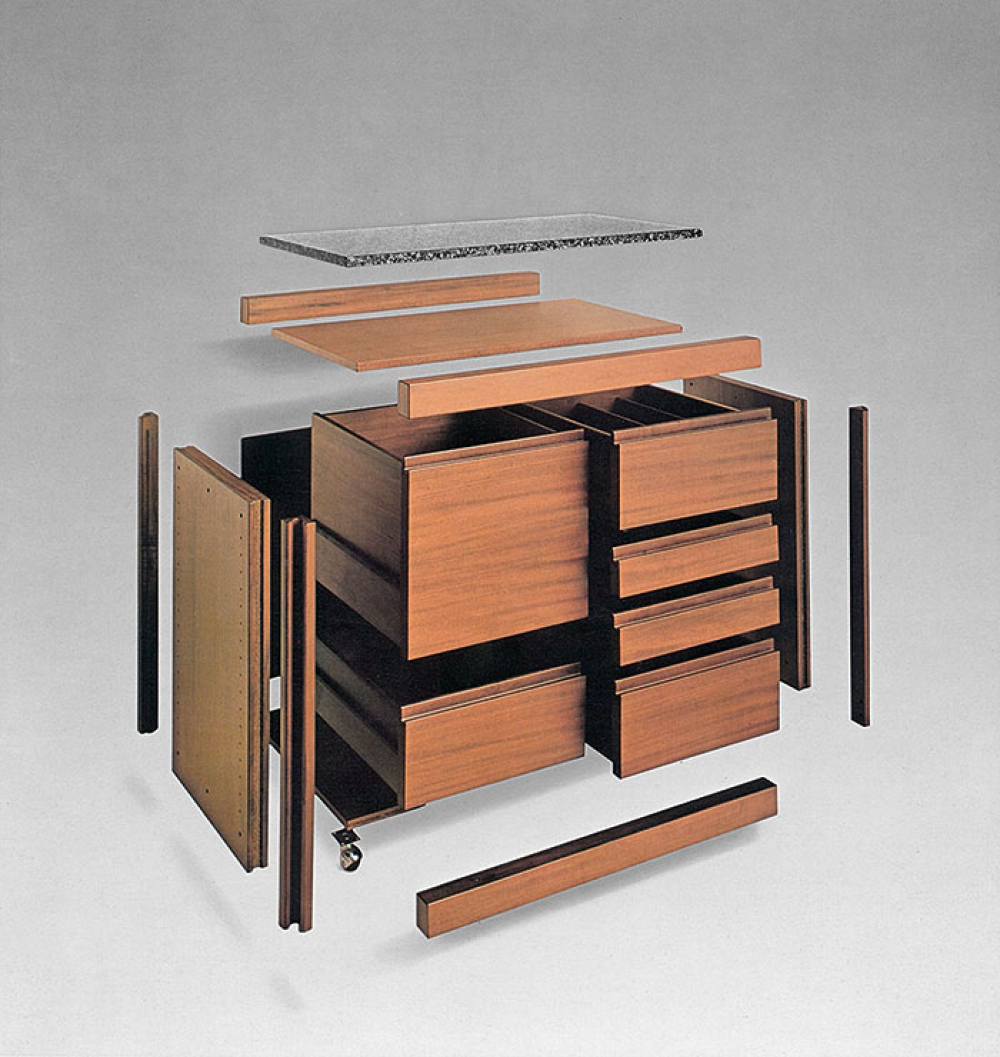 The architects came to Giussano and in a matter of months everything changed, it was a revolution. With the design culture, they brought one major innovation: simplicity. Production was converted to manufacturing furniture with various functions, for different parts of the home, well designed and conceived for mass production.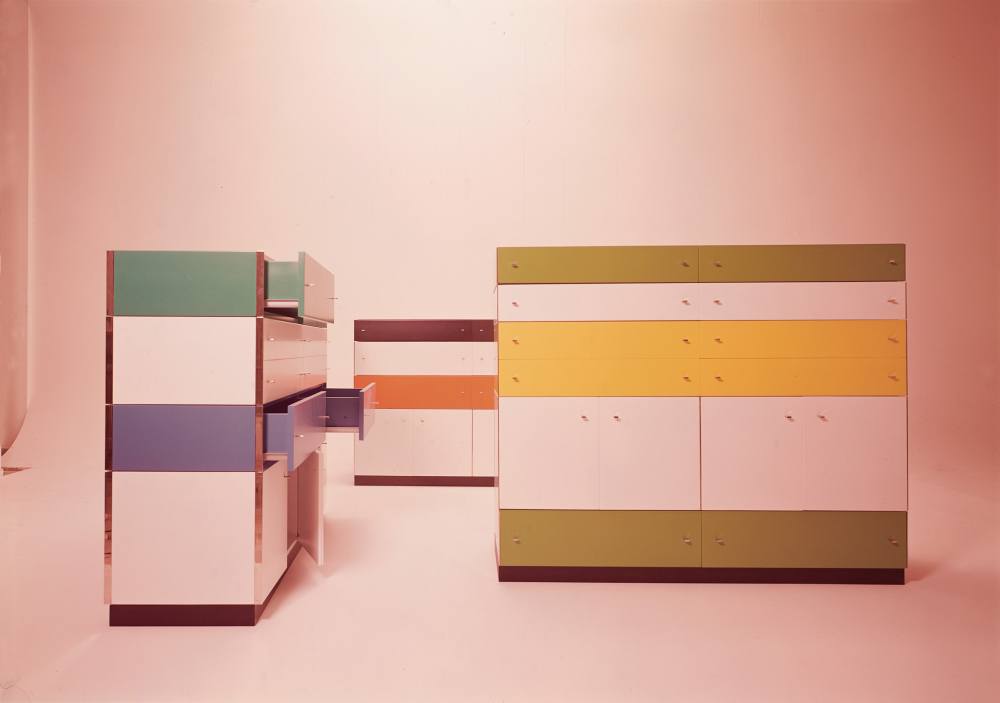 "The turnaround from classic to modern came in 1968, with the Iride system designed by Luca Meda. By the following year we had quit practically everything we had done up to that moment to produce design. It all happened in the space of seven or eight months: it was unbelievable.
-Carlo Molteni
1975 marked a watershed. The first numerically controlled machines were the hardware, that came together with the software, people, with the names and surnames of architects. Icons were created — Modulo3, Monk, Mop, Mount 505. They sound like an encrypted protocol but were actually an industrial, cultural and design programme. Outside the world was pulsating; in the industrial complex in Giussano development strategies were being drawn up design inaugurated the modular decade — a celebration of flexibility.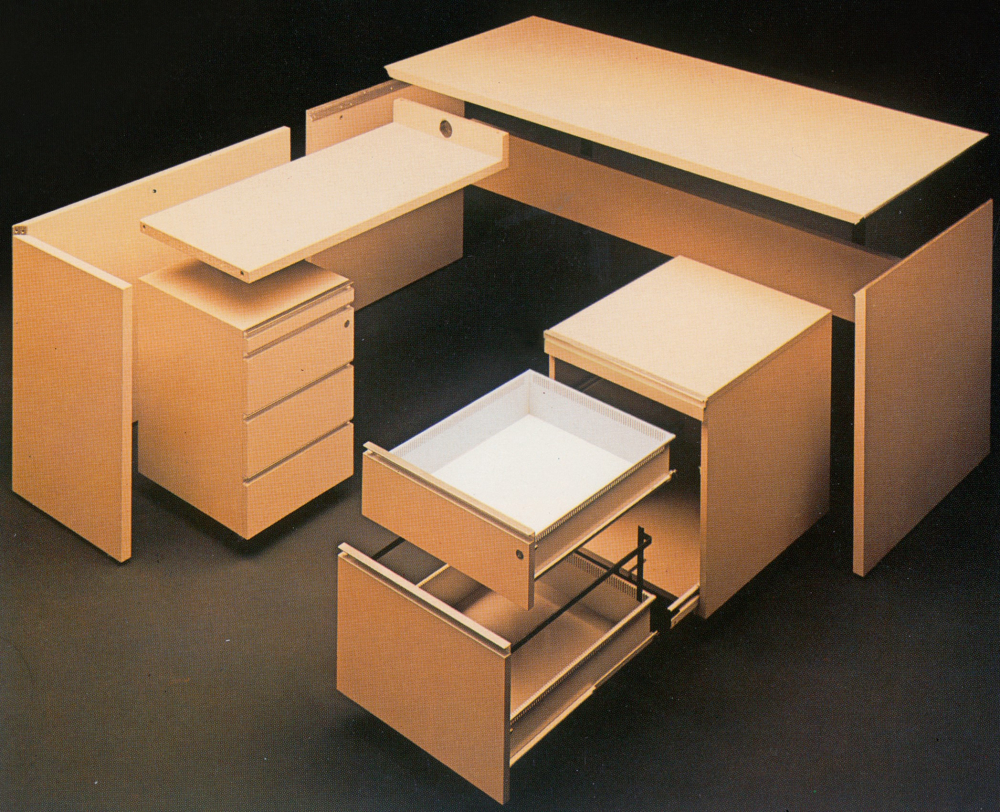 The minds were top notch, Angelo Molteni and his sons knew that design would be the key success factor. The world, with its rules and opportunities, would soon acknowledge Giussano. The world goes by the name of Modulo3, an icon of Anglo-Saxon-style organizational culture; Modulo3 meant contracts; contracts meant well-structured production plus design and development capacity, customization, interpersonal skills, reputation, international vision, new markets and business diversification.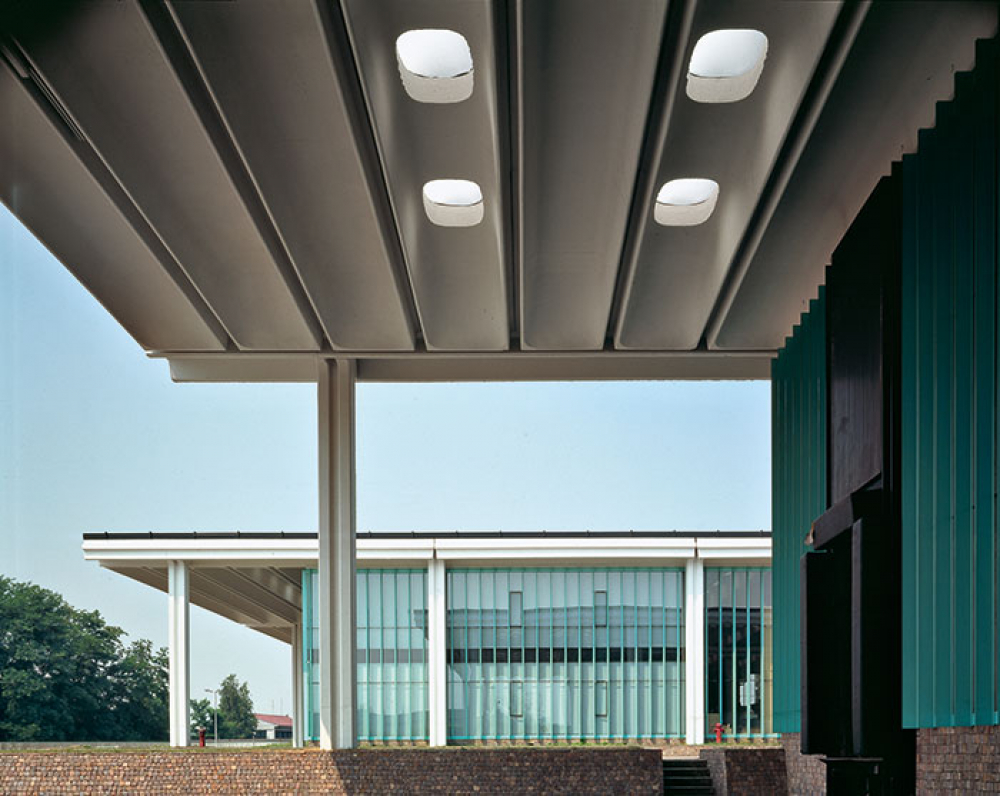 Sights were set on opportunities in the wider world, on expanding the sales network throughout Italy and on a takeover policy in Brianza, to improve Molteni's specialized manufacturing infrastructure: on top of Unifor, came Citterio. The structural, productive, design and distribution assets were almost complete. Molteni had become a Group, ready to take on the challenges of the furniture world.

UniFor Headquarter, design Angelo Mangiarotti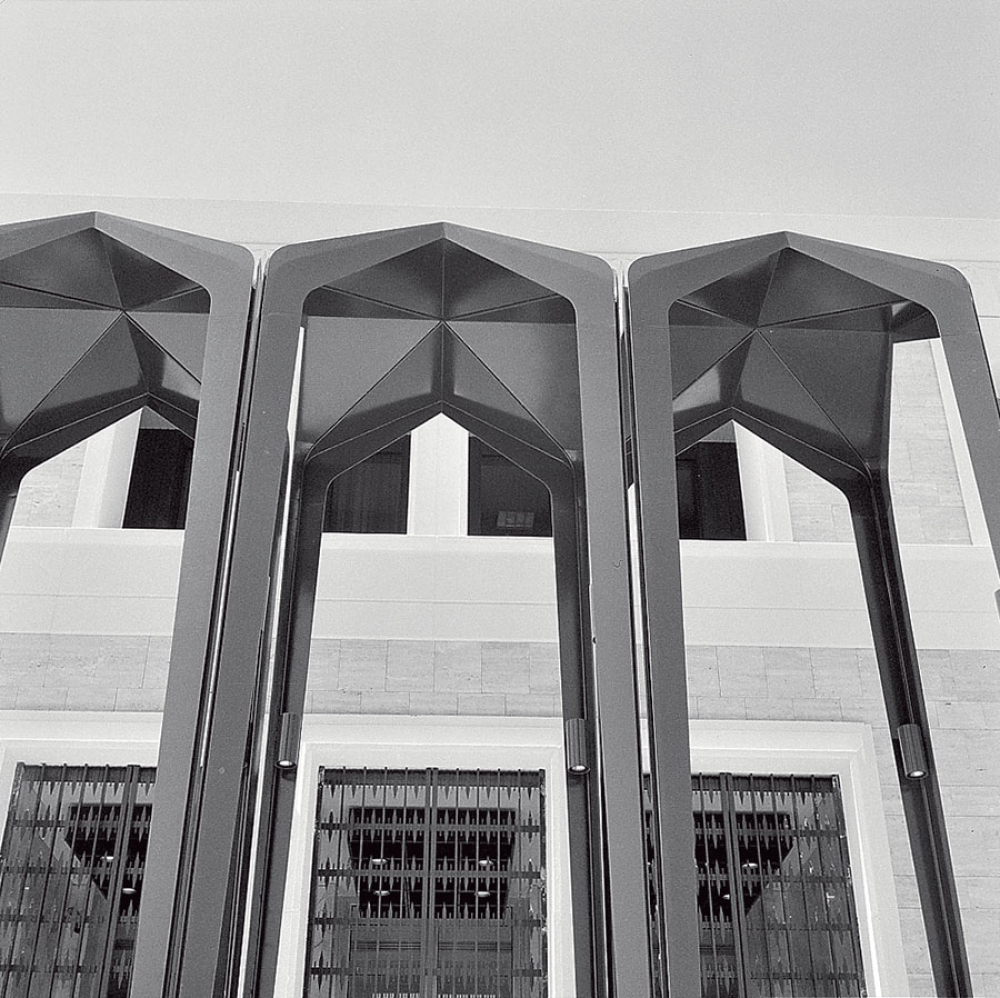 It was during that decade that the Group started to specialize in major contracts — both residential and office — thanks to the ability to adapt to different productions with guaranteed time schedules, accurate and dedicated service, the chance to write off the cost of the machines with major productions, to look for and build up demand in world markets.

Home Office at Taif in Saudi Arabia, furnished with Z2 sofas and armchairs, design Marco Zanuso
Unforgettable years indeed! The family was expanding and another place at table was required, for Dada. All that was missing was the kitchen… The Eighties were only just beginning but things were gathering pace, full of hope and promise. Luca Meda, determined and infinitely creative, brought his close friend Aldo Rossi to Brianza. New projects were in the pipeline: theatres, families of products that would re-write the history of forms. Tradition and future went hand in hand. And the world looked on, intrigued. Would they be great classics?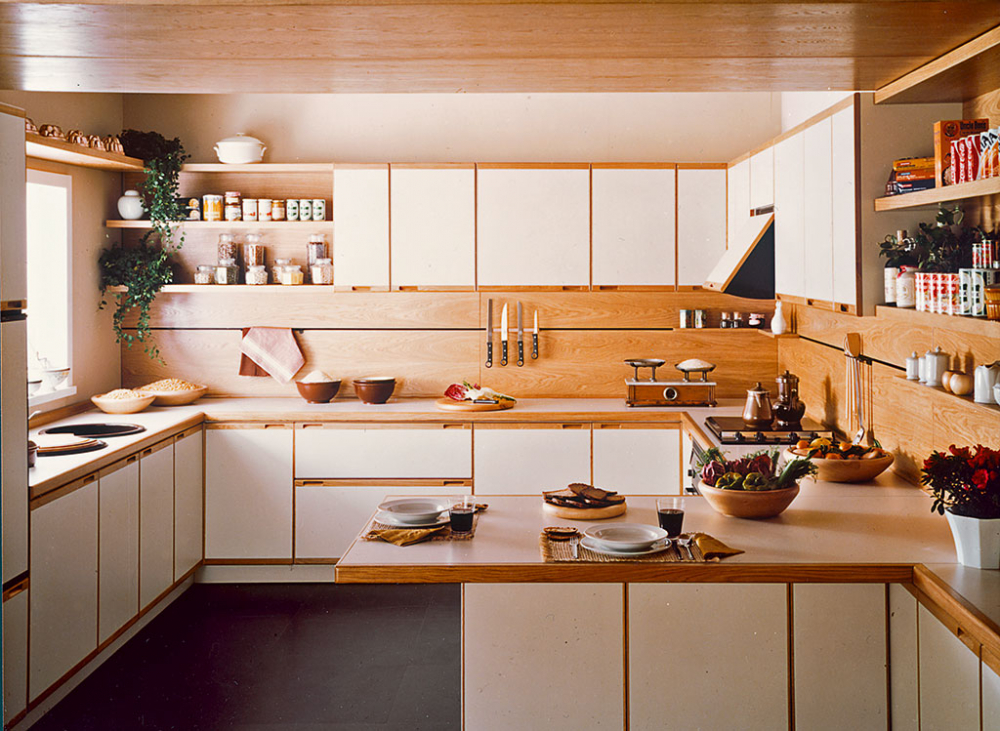 The new decade opened with another surprise move. Angelo Molteni decided to take over "Dada. Mobili d'alta cucina", a company founded by the Garavaglia family in 1926 to produce furniture and then kitchens, in Mesero, in the province of Novara.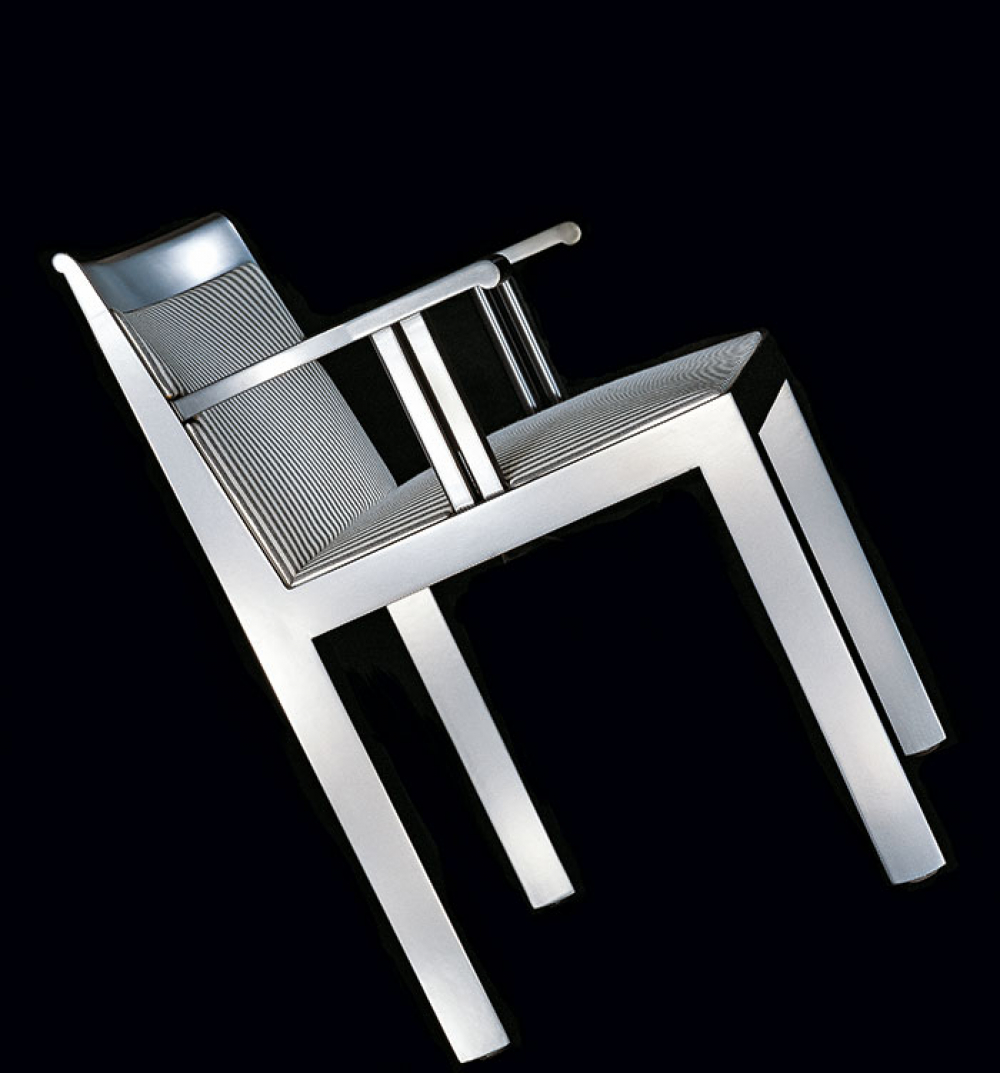 Molteni found the actors for its own play by consolidating relations with the great architects, directed by Luca Meda. "Objects are offered in veritable theatres of languages" (Mobili Italiani 1961-1991, p. 239), and the first projects by Aldo Rossi, in which the lead player is the company, are the Teatro chair, and the Teatro Carlo Felice in Genoa, rebuilt by Rossi, Gardella and Reinhart (1983/9).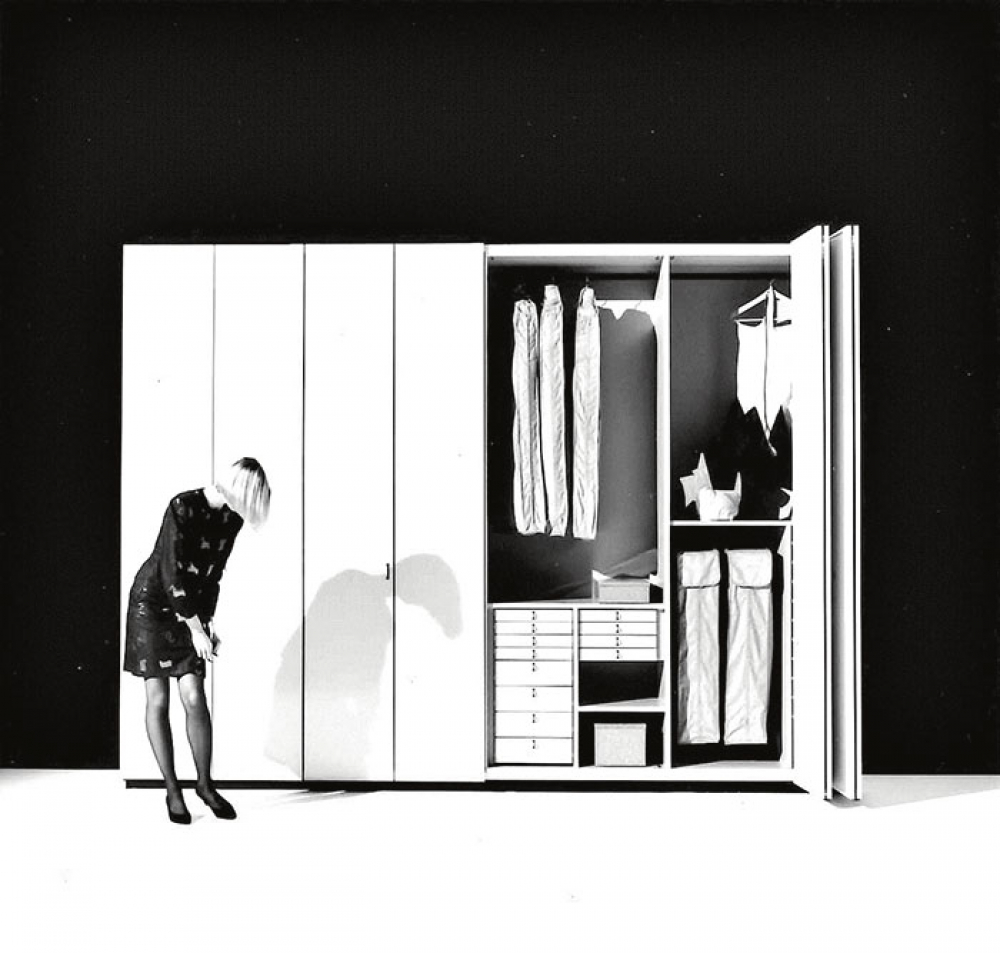 A breath of fresh air swept through the factory, where, at the end of the Eighties, work focused on developing a revolutionary prototype, the 7volte7 wardrobe, which would enter the homes of — almost — all Italians as well as numerous foreigners. Those were the years in which the "Casa Molteni" idea was first concieved, re-asserting a culture of living firmly rooted in Italy's collective imagination, revised and integrated to satisfy the international markets.
Piroscafo — a steamship — was the perfectmetaphor for the 1990s. Ploughing its way across the oceans, it symbolized an era of glo balization. On the way back to Samarcand old-fashioned words re-emerged: acknowledgement, specialization, flexibility, large numbers. And new paradigms: minimalism sustainability, alternative materials, wireless "Less is more" acquired new connotations Hidden quality was the second metaphor Technology yes, but with discretion. Shshsh Silence! Listen to the designs!
The ship had set sail, its route clearly mapped out. An enormous vessel, built with elements of the Piroscafo system designed by Luca Meda and Aldo Rossi, marked the entrance to the Molteni&C stand at the 32nd Salone in 1993. A theatrical flourish that got people staring in amazement.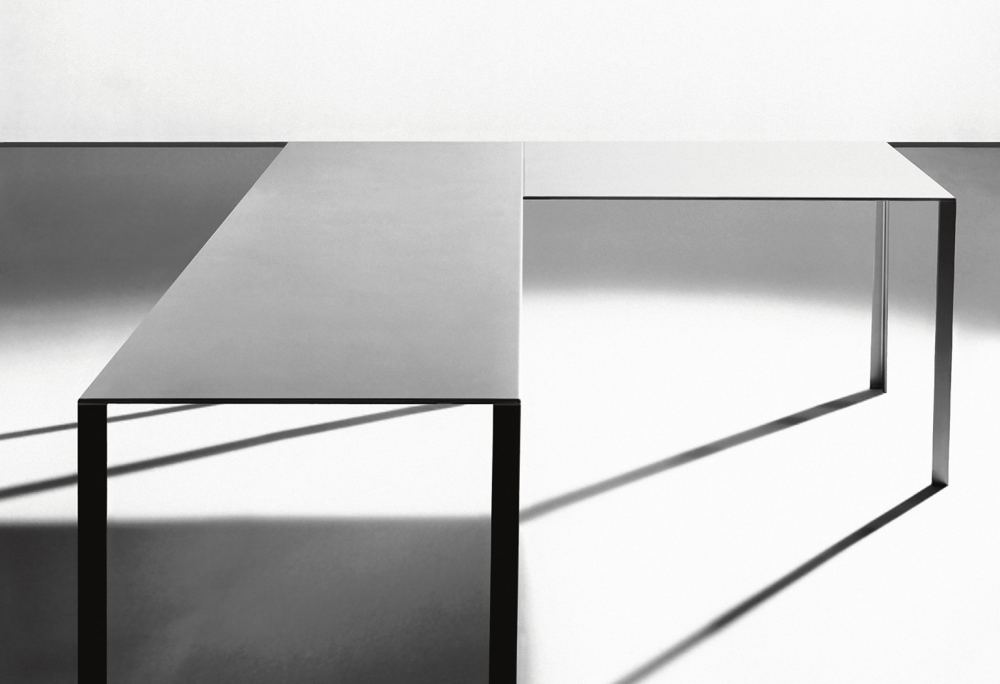 In 1994, Unifor came up with Less, a steel table with an ultra slim rigid top, achieved by repeatedly bending sheet metal, L-shaped legs, 45mm wings and an aerodynamic profile. An icon of contemporary design. In ten years they sold thousands of pieces: Unifor for offices and Molteni for homes.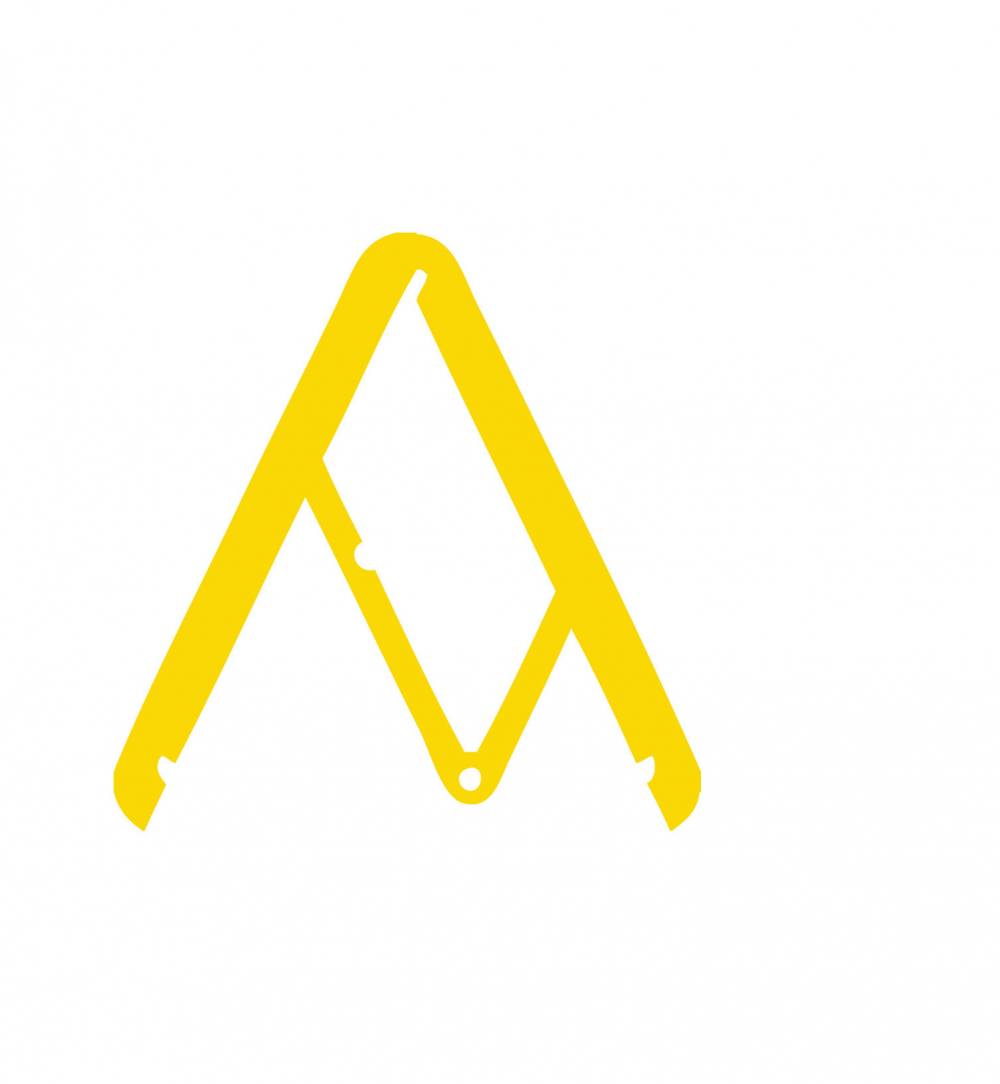 Molteni&C, who won the 1994 Compasso d'Oro lifetime award, continued his research with Luca Meda. Well-made, durable furniture, where technology, rather than making a clean sweep, took tradition to unexpected developments. 505, an increasingly versatile system, the Capotavola table, with its antique forms, Viavai, rational, collapsible furniture for homes with limited space, while 7volte7 continued to evolve, with cutting-edge technology, various opening systems and hermetic, dust-proof closing mechanisms.
New stories and responsibilities
The first fifteen years of the New Millennium, marked by Barack Obama's slogan, "Yes, we can!", respond to the word responsibility. Out there, in the world, with events that focus on the design culture, such as the exhibitions dedicated to Aldo Rossi, Luca Meda, Jean Nouvel and Ron Gilad, or the Frammenti di casa show at Villa Torlonia.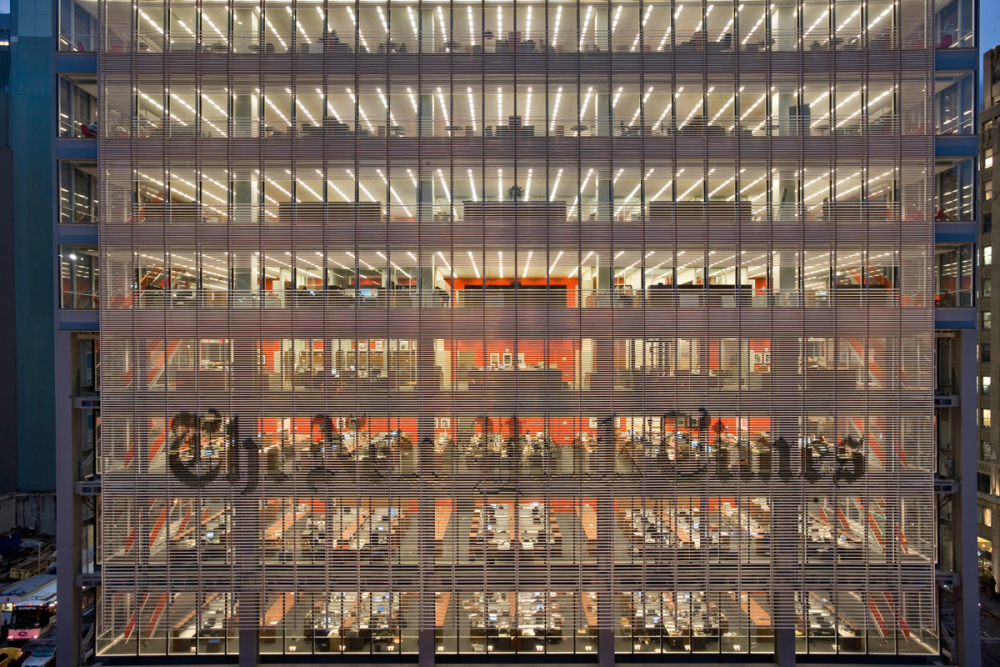 Architects, from all over the place, turn up with a project — especially places and buildings, sometimes ideas, to be turned into products — Jean Nouvel, Álvaro Siza, Foster+Partners, Pierluigi Cerri, Dante Bonuccelli, Rodolfo Dordoni, Ferruccio Laviani, Patricia Urquiola and Ron Gilad, to mention a few.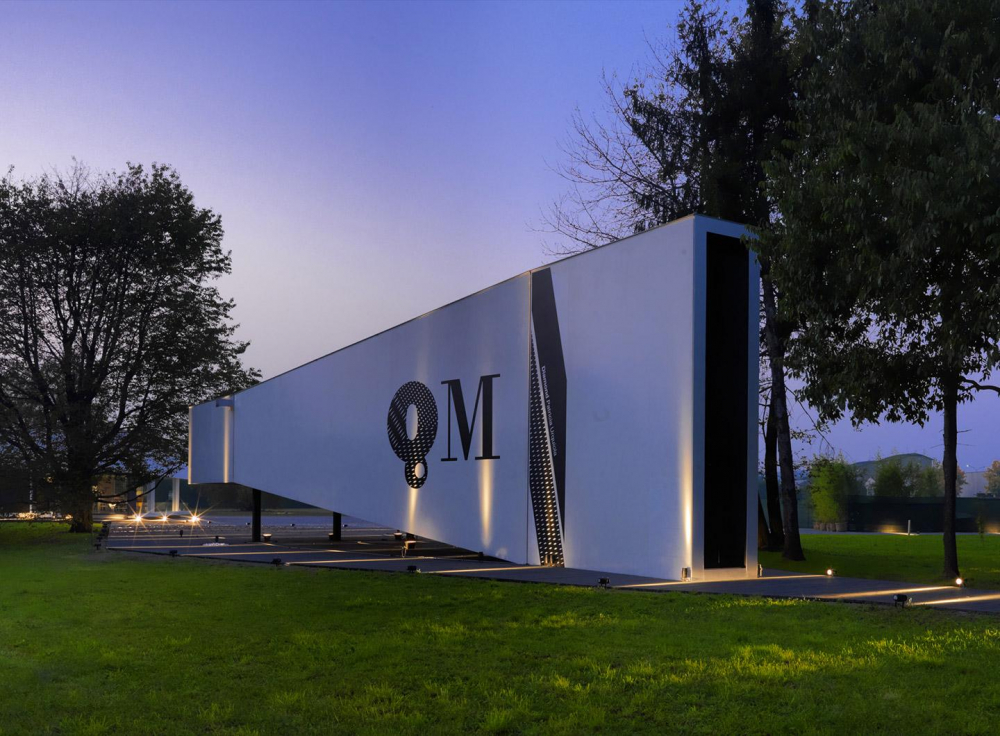 In 2009, in its production unit in Giussano, Spazio QallaM made its appearance in what was originally an installation designed in 2006 by Patricia Urquiola. Re-styled by Studio Cerri & Associati to celebrate Quality. An icon of great manufacturing in the heart of an historic district.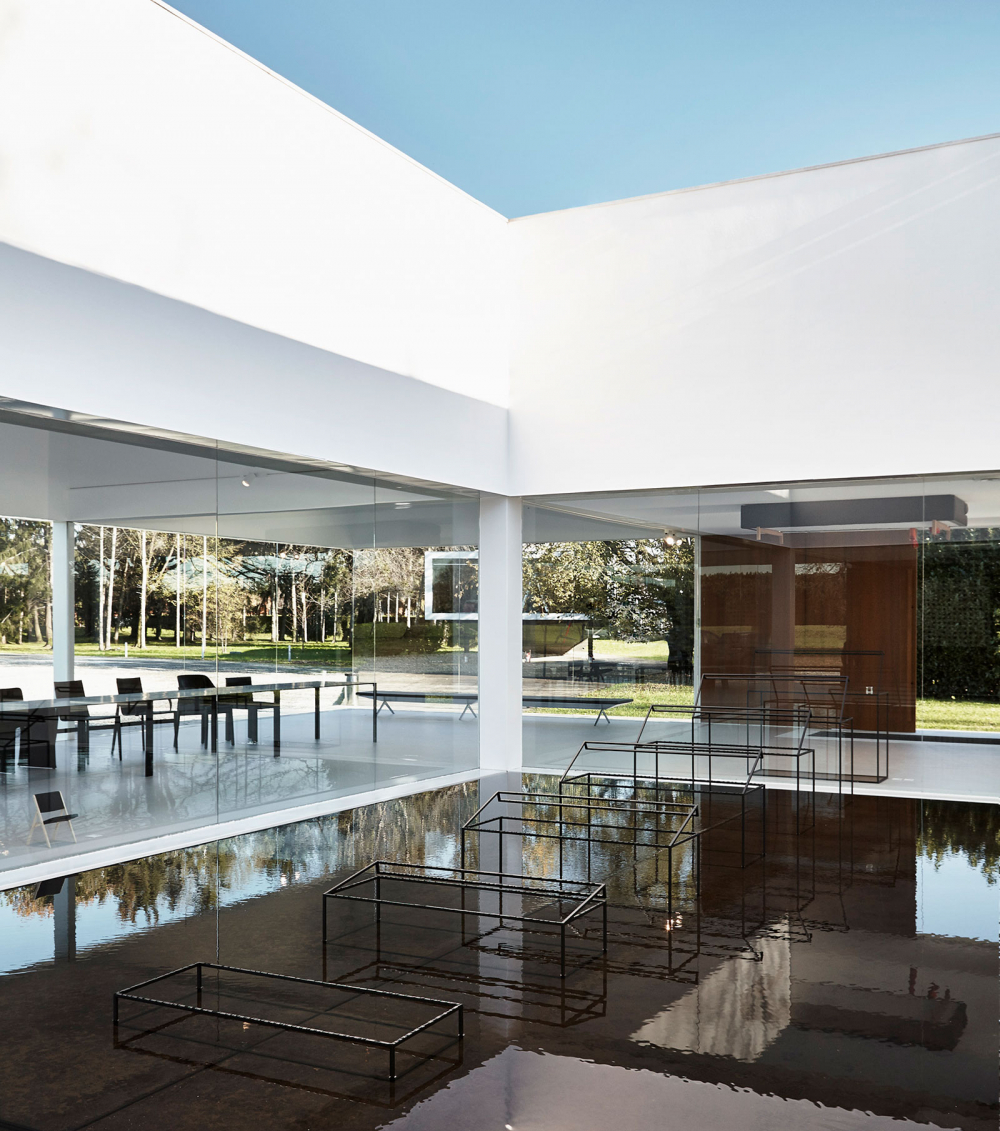 Next door, within the same company grounds, in 2014, another building was completed, entrusted this time to the creative fl air of Ron Gilad, Glass Cube. A 400sq m exhibition space, made up voids, glass and amazing installations. Gilad reinterprets the distinctive themes of corporate identity: the materials — fi rst and foremost, wood — quality, experience, technology, industry and craftsmanship, products and collections.
80-year history of design and innovation
To celebrate its 80-year history of design and innovation, in 2015 a company inaugurated a museum in its headquarters in Giussano, northern Italy. It is the Molteni Museum, designed by Jasper Morrison. On show are 48 iconic products and prototypes.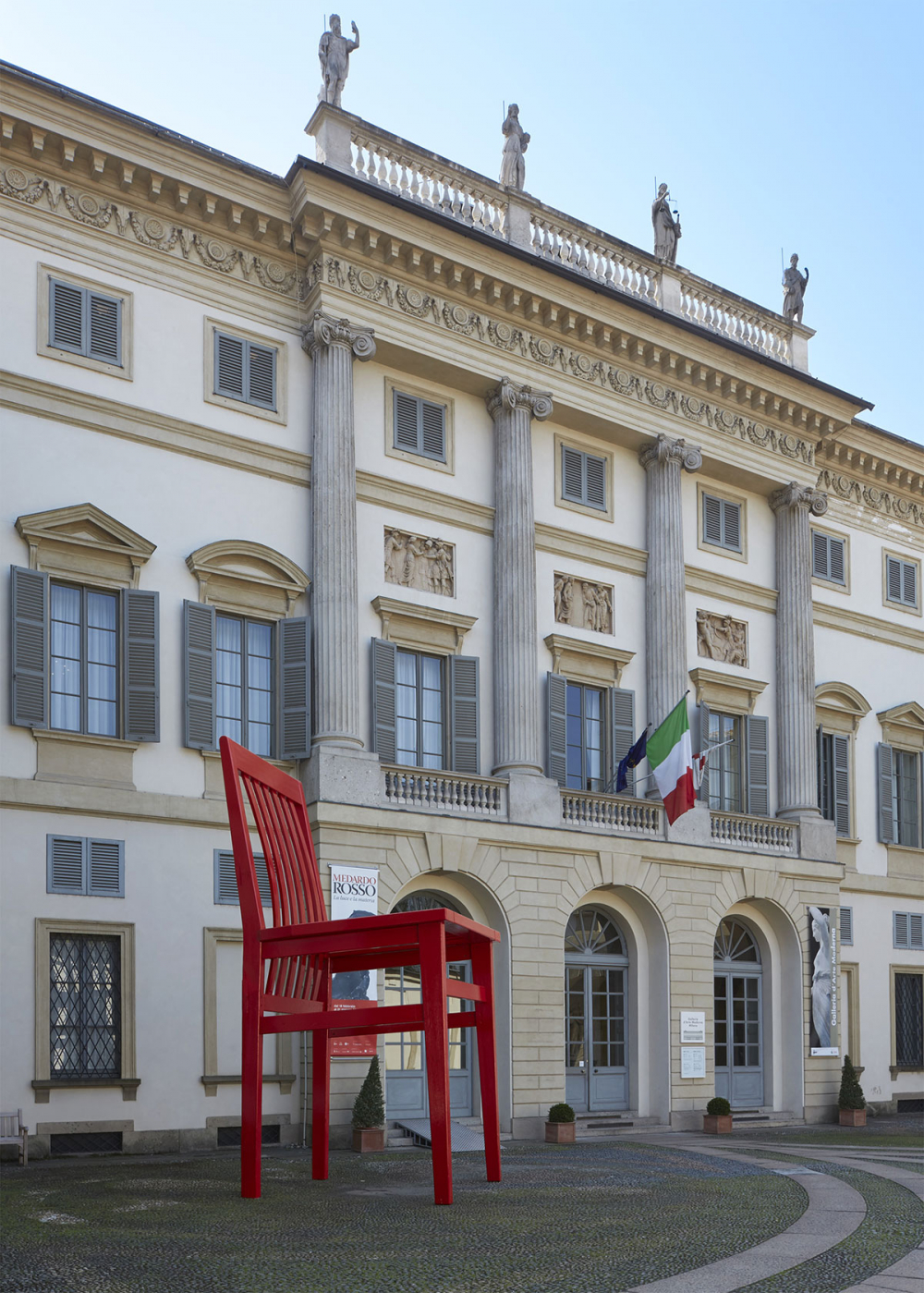 2015. Gruppo Molteni celebrates 80 years in the business with an exhibition at Milan's Galleria d'Arte Moderna, 80!Molteni. Curated by Jasper Morrison and with graphic design by Studio Cerri & Associati, for the first time prototypes and furniture made by all the Group's companies narrate 80 years' experience, quality and innovation. The exhibition has become the nucleus of the Molteni Museum in Giussano.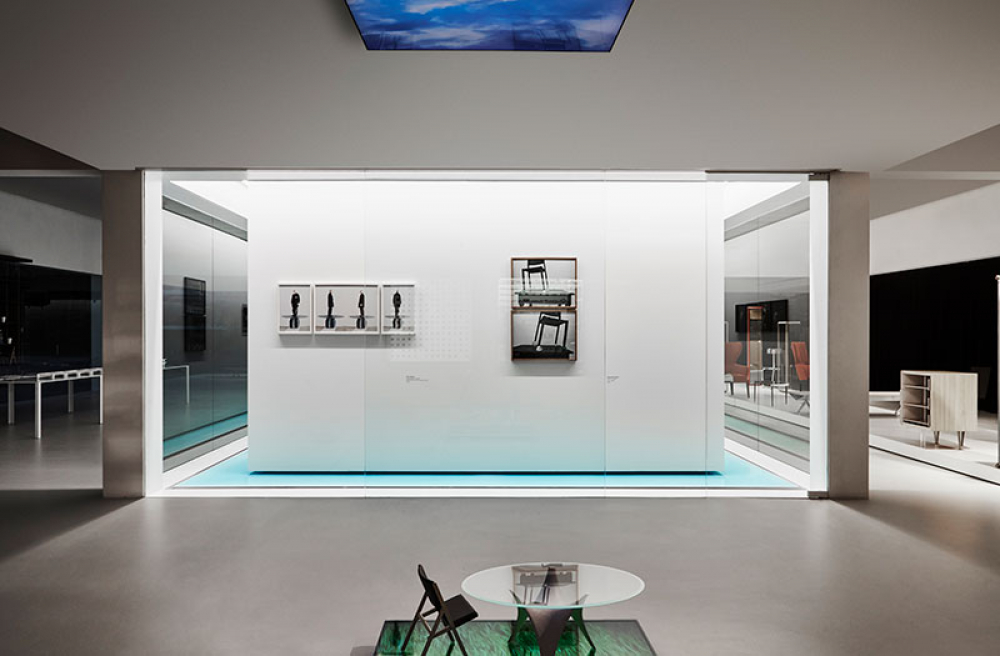 New items, great classics and unique pieces have now emerged from their museum cases to be installed and enjoyed inside people's homes.
Molteni have also rennovated their industrial Compound: the Archives, which house its cultural heritage; Spazio QallaM, designed by Patricia Urquiola, an installation focusing on Quality; and Glass Cube, designed by Ron Gilad, which re-interprets great classics as well as contemporary pieces, the company's DNA. "A cube within a cube, an unexpected space for art" houses photographic projects commissioned by M&C, the Group's magazine.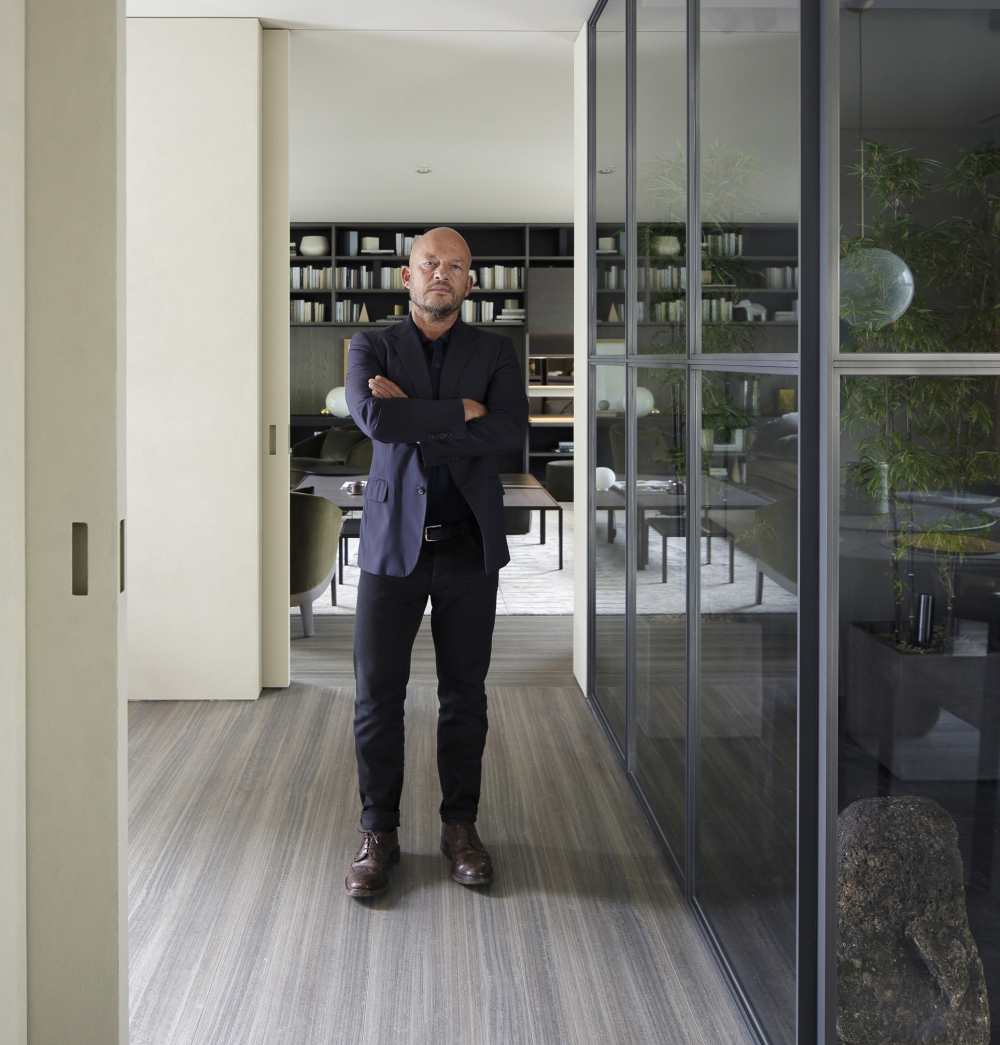 The Belgian architect and designer Vincent Van Duysen, who has been the Molteni&C and Dada brand's art director since 2016, has brought his northern European imprint, his minimalist rigour with a Mediterranean flavour and a great passion for Italy.
Perfect for coordinating the two companies' image and retail concept.
Values like tradition, quality, respect for production processes and environmental protection are fundamental aspects of the brand identity.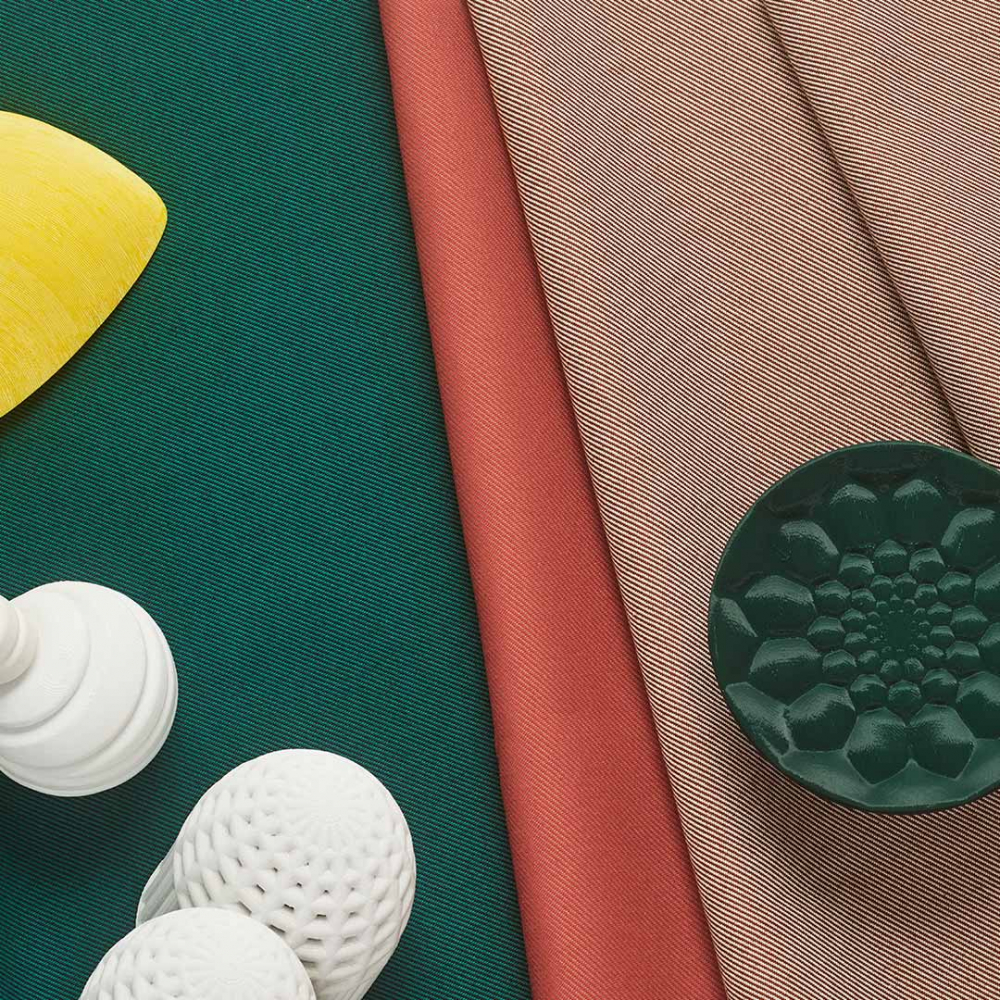 2021 sees the introduction of a new fabric in collaboration with Kvadrat, with a significantly reduced environmental footprint, in a yarn made from 100% recycled PET bottles. An eco-friendly cushioning, in a synthetic fibre of 100% recycled and biodegradable polyester has also been added to the range.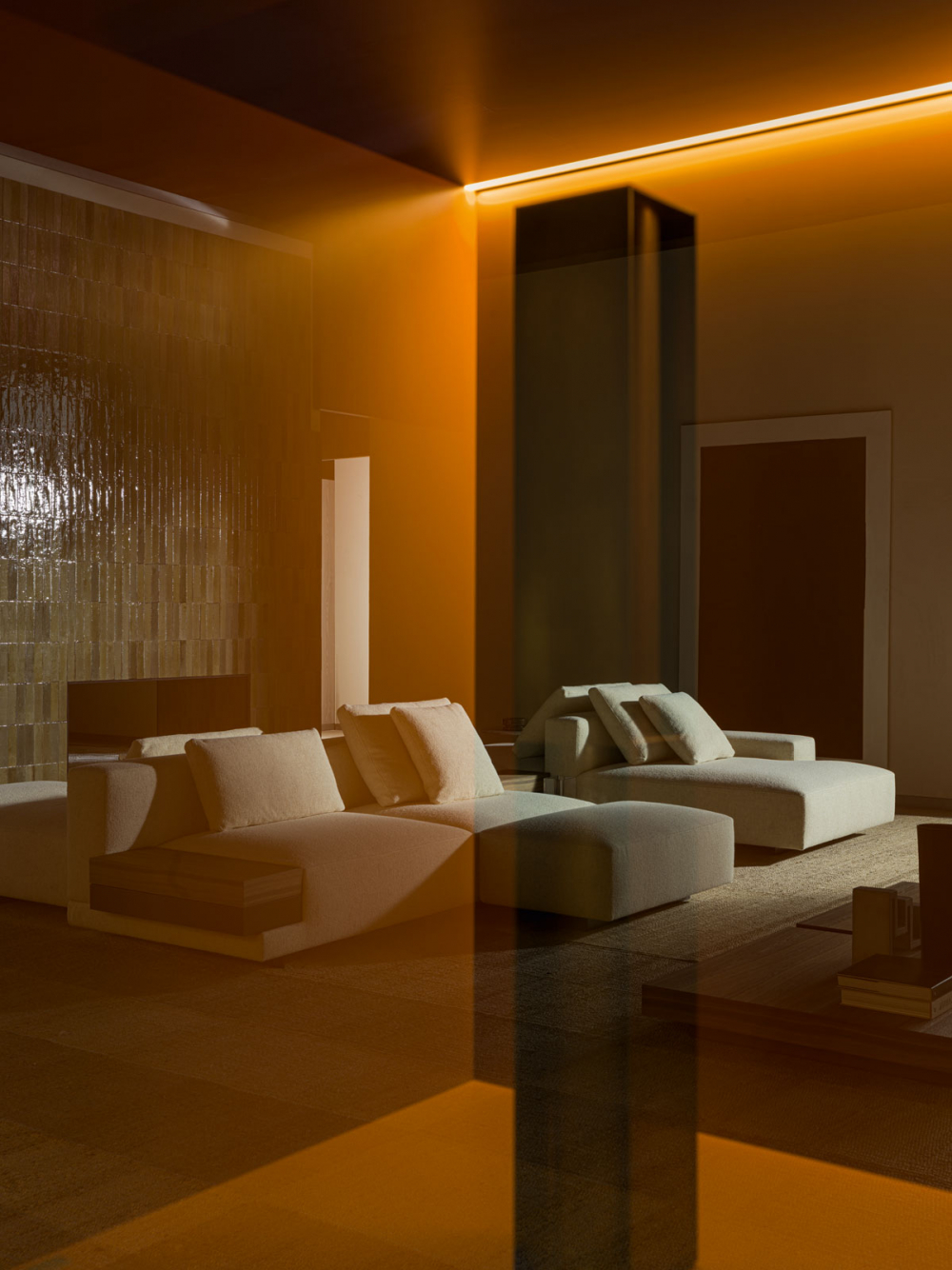 The Molteni Group has always had a highly communicative, two-way relationship with the protagonists of the architectural world.
The 2021 narrative project, by creative director Vincent Van Duysen, is a tribute to two great key figures of one of the most innovative periods of Italian design and architecture. Two exponents of the Modern Movement, with different styles: Ignazio Gardella and Carlo Scarpa.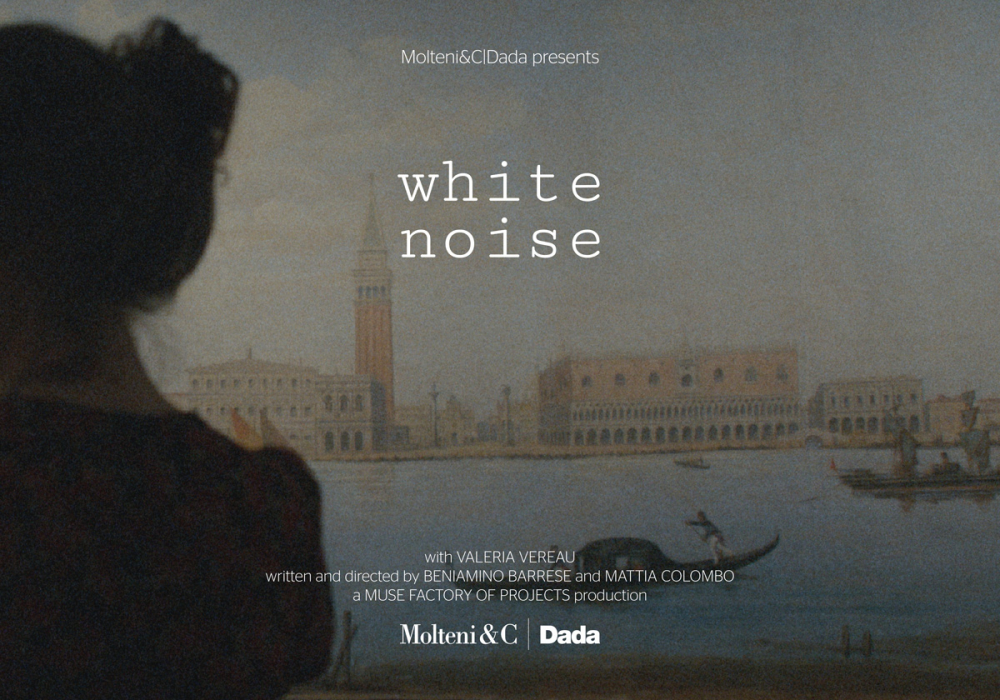 The brand celebrates the new collection with an original short film, written and directed by Beniamino Barrese and Mattia Colombo, an intense story that pays tribute to the city of water par excellence loved by Carlo Scarpa, and to its architecture: Venice.
A long stretch, with a few obstacles and numerous challenges, from 1934 to today. And the feeling that it is never enough… No, "expertise" is no longer enough. But the real conquest is the community, inside and out The local area plus new markets, words and images. Communication. Glances, gestures services, the supply chain, processes and strategies. Reputation and social responsibility. Every day and in every detail, a magnificent obsession: brand quality.